So, lately I've been a search for some new blogs. I still love everyone that I read, but I felt like I needed some new energy. I am sure you understand what I mean – hopefully.
In the search for new blogs I came across The Larson Lingo. I was first engrossed in her parties (she has a tab that it full of just parties) and over the past week I have gone back to read through the entire blog. You see Mel has two daughters that I believe are about 20 months apart and me being in my current condition it was perfecting reading material.
You can find her blog here
From Mel's blog I have found these that are great as well:
I also want to tell you about The Macs. I have been reading Jess' blog for almost two years now and love every word of it. Jess has two darling boys – one is Bekah's age, so I like to see if they are progressing the same way.
You can find The Macs here:
I strongly suggest you stop what you planned on doing this afternoon and go read these blogs – you'll thank me for it later.
Ok, so on to the swap. I am getting in on this at the last minute, so I wanted to make sure I told you as well. Kim over at A Cuppa Kim is holding her second annual mug swap. I am so excited to get in on this and you will be too, but you need to click the link below and request to be a part before Midnight tomorrow (August 8th).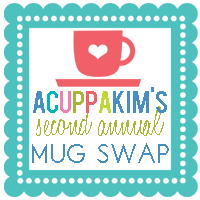 I will leave you now since it looks like you have a ton to do! Hope you are having a blessed Tuesday…I still feel sick, but I will deal…only like 7 or so more months to go.